: Fingerstyle Funk [VHS]: Francis Rocco Prestia, Alexis At last, bass players around the world are allowed a rare, in-depth look into the style . a ton of money learning what would otherwise require dozens of private lessons. Francis Rocco Prestia tabs, chords, guitar, bass, ukulele chords, power tabs and guitar pro tabs including fingerstyle funk. A very special chance to not only witness the talents of this superb bass guitarist, but also to recieve a thirty-minute intimate lesson with the man himself. Joined.
| | |
| --- | --- |
| Author: | Akilkree Tolmaran |
| Country: | Greece |
| Language: | English (Spanish) |
| Genre: | Career |
| Published (Last): | 8 October 2018 |
| Pages: | 58 |
| PDF File Size: | 18.82 Mb |
| ePub File Size: | 9.6 Mb |
| ISBN: | 530-5-43984-777-4 |
| Downloads: | 85833 |
| Price: | Free* [*Free Regsitration Required] |
| Uploader: | Arakree |
Read the current issue of VG. There has been a steady stream of staccato 16th notes and offbeat accents flowing out of the West Coast ever since he exploded on the pop music scene as a member of the Rolls Royce of funk bands, Tower Of Power. Your hands are probably just starting to uncramp. Soul icon and Booker T. For contractual reasons, engineer Ron Capone was credited as producer of the francks release, but Prestia concurs that Cropper produced it.
In recent years, Prestia underwent heart valve replacement surgery and a liver transplant, but, still on tour with T. In his Jamerson opus, author Slutsky paid Rocco perhaps the ultimate compliment.
But the similarities in these two bassists run much deeper than just notes or rhythms. Did you grow up in the East Bay? Yeah, the band started in Fremont, and then we moved up to Oakland. Before that, was it just rock and roll? Not really rock and roll either. How old were you when you started playing bass? Mimi [Emilio Castillo] and I went lewson high school together. He was a year ahead of me. He just wanted to form a band, so we did.
They needed a guitar player, so I auditioned. What equipment were you using then? My first bass was a Fender. I think it was a Precision.
I played other basses, but that was the first rental bass that was brought and put in my hand. I had a Silvertone guitar and amp I bought from Sears; 60 bucks for the set. Franfis you switched to bass, did you adapt to it quickly? By the time you got out of high school, you guys had already been playing together a while.
So yeah, the decision was made by then. How many Tower albums were you on before you left the band? In the interim had the band changed much? They were pretty lean times for the band. A lot of changes went on. It was all good. Once I settled in, it was fine. Was David still the drummer? He was in and out so many times.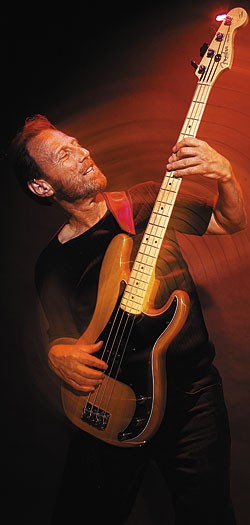 After you got assigned to play bass … When I started to really establish myself as a bass player, I grew up with sounds. It was Motown, it was Philly, it was Chicago — it was sounds.
Francis Rocco Prestia – Fingerstyle Funk (Bass Lesson)
I keep hearing little tidbits about people who were around back then. But the Chuck Raineys and Jamersons and the guys on the Philly stuff were influences. In terms of the parts you played and developing your styles, were you pretty much left to your own devices? The band was pretty much free like that, yeah. Which is fine, too.
But we were doing original music early on, so we had a chance to create a style. I play the way I feel. It can cause you to mess up sometimes, but so what? You should go for it and have some fun. Being able to create a style and be in an organization for so long gives the opportunity. When you talk about it being easier to be in bands then, you also were in a certain time and place — the Bay Area. That was the time for music, man — bar any place in the country.
No question about it. The Fillmore, Bill Graham — forget about it. There was no place like that in the world. But those audiences knew good from bad, because they were exposed to so much. I mean, superstar bands all together in one night — that was just a common thing. Fillmore East was a disaster, though laughs! It was just a crappy venue. Well, we went out of our way to separate.
It was important for us to separate from that whole San Francisco sound. It was real important for us to identify with the East Bay. Was it natural that the East Bay had more of a funky feel, or was it just a coincidence that you guys happened to be there and were a funky band? The Whispers were around then, the Natural Four — there were singing groups, but they were soul. Do you remember a group called the Spiders with a singer named Trudy Johnson? That was our favorite group. That was the band.
Even to this day, those were the guys. They played high school dances and I. Hall, this little union hall.
That was the place! A big little barn. When you started developing a style, unconsciously or not, was it natural that a certain technique developed, or was it something bas studied? Is your right-hand picking two fingers or three?
Who are some of your favorite bass players? Once I got into soul, that was it. That old soul stuff is where I come from. And all those guys are very well-educated, the way they came up.
But yeah, there are a lot of styles. I was going to say than the singers — because Tower has had a succession of lead singers. But they made the money laughs! Inside the band, we tease each other, but the horn section and the rhythm section go together like a hand and glove — especially when [trumpeter] Greg Adams was arranging. He knew how to arrange the horns to get the maximum out of the section. Are you cuing off anything specific? It could be a horn line; it could be a vocal; could be a setup on the drums.
Any number of things could set it up — a change or a dynamic, whatever. Yeah, and then the second one was produced by Steve Cropper. After that, the band produced its next several albums. Were those done by committee, or how did that work?
Everybody had input, but the bottom line goes back to Mimi.
Interview with Tower of Power bassist Rocco Prestia
Usually that would spell failure for a band because the audience identifies with the singer. You know, singers in general are freaking head cases. We had a lot of great ones, though. Was Everybody On The Bus your first solo album? After being a band member for so long, how did you decide what direction to take for a solo project?
And what came out came out. As far as a solo album, it was an opportunity offered, and it just worked out. Did you purposely go a different direction than the bigger, horn-heavy Tower sound? I did use some of the guys in the band, though. Jeff Tamelier was the [Tower] guitarist before Bruce came back, and I used Doc; they went together a lot.
I kind of like it; it keeps it fresh, and gives you a chance to kind of go after it. I actually enjoyed it quite a lot. What kind of strings do you like? Dean Markley makes them — they have my name on them and everything.